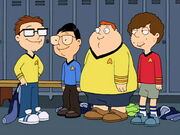 All About Steve

Season:

1

Episode Number:

10

Directed By:

No information

Written By:

Chris McKenna and Matt McKenna

Proceeded By:

Followed By

Guest Starring:

Stephen Colbert as the Dentist

Brian Posehn as Dan Vebber

DVD Commentary Available:

Yes
A.) Story
Edit
B.) Story
Edit
Roger wants to start interacting with humans again, and hayley tries to help. She ends up taking him to the Sci-Fi convention where he comes across a man he once probed.
Pop Culture References
Edit
Steve, Snot, Toshi and Barry dress as Star Trek characters at the baseball game.
The magazine with the algebra book inside of it in Steve's room is a "Playboy".
Characters
Edit